Win7: Buttons on a window preview
For more than a month now I am enjoying Windows 7. I really enjoy it. As too many folks out there are blogging about all its greatness I did not see myself invoked to jump onto that train – until now.
Some minutes ago my mouse hovered casually above the Media Player taskbar icon – and suddenly: What is that? Controls beneath the preview? Again, one of these WOW moments.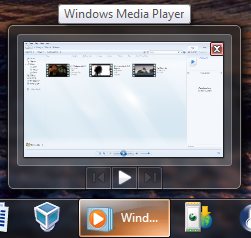 A quick websearch brought up a nice article by Arian T. Kulp, which I can really recommend. It is about creating this and some other of the new taskbar "effects".
Link: http://blogs.msdn.com/coding4fun/archive/2009/08/25/9874533.aspx